Satisfying the function of leakage current meter for electrical safety diagnosis agency!
※ Article 52 of Electrical Equipment Technical Standard (Enforced on January 1, 2021) and Article 13 of Judgment Standard are satisfied!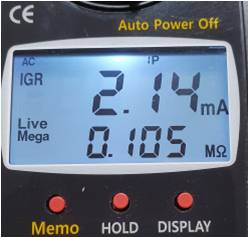 Measure and analyze quickly and accurately in the field
Active ingredients that affect actual electric shock and electric fire
(Resistance leakage current/IGR) and the ineffective component (capacitive leakage current/IGC) flowing from the ground capacitance or SMPS of various digital equipment between the wire and the ground are separated.
After accurately analyzing the leakage component, the insulation resistance is calculated in the live wire state. (Patent registration: No. 10-0876651)
KEPCO, KEPCO KPS, KEPCO KDN, power generation company, Samsung Semiconductor,
KT, SKT, LG U+, electrical safety diagnosis company, LED manufacturer, electrical safety diagnosis company,
street light construction company, traffic light construction company, defense industry,
large hospital, art In use at the National Assembly Hall, Art Center, universities,
Seoul Transportation Corporation, KORAIL, semiconductor factories, shipping companies, IDC centers, etc.